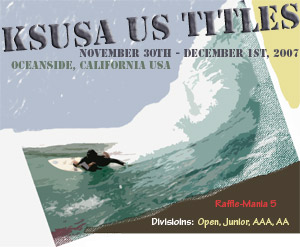 In November 2007, the KSUSA US Kneeboard Surfing were moved to Oceanside. Partly to mix things up, and also because it's difficult to get permits for multiple contests in Santa Cruz in one year. Unfortunately, the weather did not cooperate and we were rained out in normally sunny Southern California. Go figure. Lifeguards shut it down a few heats into the contest.

The contest was rescheduled for February 2008. Tom Backer earned the Open Championship with excellent surfing in challenging small wave conditions.
Official Press Release:
---
Huntington Beach's Tom Backer Claims Kneeboard Surfing U.S. Title
Orange County Kneeboarders Win Two of Four Divisions as well as Team Competition
Oceanside, CA (Thursday, Feb. 14, 2008) – Tom Backer used sweeping cutbacks and straight-up vertical surfing to edge-out the competition at the Kneeboard Surfing U.S. Championships held Feb. 8 and 9 at Oceanside Harbor. Backer, 45, surfed flawlessly in the open division final – held in glassy, head-high waves.
A dominant competitor during the late 1970s, Backer led a resurgent and spirited group of Orange County kneelos who claimed two of the four individual titles and the team event title. Backer's victory was a popular one; the former NSSA Champion appears to be surfing even better today as he did nearly 30 years ago.
Pat Evans of Newport Beach surfed solidly throughout the contest and placed a close second in the open final. Ed Quinn of El Segundo worked hard for well-deserved third-place finish, and Robb Salfen of Los Osos – who impressed many over the two-day event with his fluid, small-wave skills – placed fourth.
The other division winners included: Junior Champion Taylor Chapatte of San Diego; AAA Division Champion Mike Butler of Huntington Beach; AA Division Champion Kelley Farnsworth of Anaheim; and San Diego's Darcy Murphine, who took home the U.S. Women's Title.
More than 50 Kneeboard competitors made the most of waist-high waves on Friday and were rewarded with a building northwest swell for the semis and finals on Saturday. Each of the finals was closely contested and showcased some progressive surfing as well as an increasing depth of talent amongst U.S. Kneeboarders.
Especially impressive was the level of surfing in the junior division – which featured 10 competitors 20 years old and younger. Chapatte narrowly defeated Sam Coyne in the final – easily one of the more entertaining heats of the competition with all four competitors going for broke in the challenging low-tide conditions. Shaun Murphy finished third but earned high praise for his strong performance and results over two days in the open division. Matt Pierce also turned heads with his radical surfing which earned him a fourth place finish in the junior final.
This year's event was the first time the KSUSA Titles have been held in Southern California. Three previous U.S. titles events were held in right-hand, point-breaks in Santa Cruz. The next Kneeboard Surfing USA competition will tentatively be held in Orange County this September. Another contest is planned for early 2009 in Santa Cruz.
In addition to awarding U.S. titles, the events are being used as qualifiers for the upcoming Kneeboard Surfing World Titles which will be held in Opunake, New Zealand in April 2009. U.S. Kneeboarders hope to crack the stranglehold on the World Title that Australians have had since 1996.
Sponsors of the Kneeboard Surfing U.S. Championships include: Blast, Freeline, G.I. Joe's, Go Pro, Gordon Biersch, Hensley's Pub & Grill, Hurley, Joel Mayer Surf Photographer, LuxurySurf.com., Maxim Capital Advisors Inc., Niuhi Grips, Parkes, Real Surf, Stay Covered, Tide Has Turned and Viper Swimfins.
Established in 2003, Kneeboard Surfing USA is dedicated to promoting the sport of Kneeboard Surfing through competitions, kneelo gatherings and other activities. KSUSA has hosted four U.S. Championships and the 2007 World Kneeboard Championships.
Final Results
Open Division
1. Tom Backer, Huntington Beach
2. Pat Evans, Newport Beach
3. Ed Quinn, El Segundo
4. Robb Salfen, Los Osos
AAA Division:
1. Mike Butler, Huntington Beach
2. Ed Dimick, Orange
3. Paul Devoy, Huntington Beach
4. Akio Matsumoto-Ransom, Oceanside
AA Division:
1. Kelley Farnsworth, Anaheim
2. Jon Jenks, Ventura
3. Zach Smith, Huntington Beach
4. Eric Klimczak, San Diego
Womens Division:
1. Darcy Murphine, San Diego
Juniors Division:
1. Taylor Chapatte, San Diego
2. Sam Coyne, San Diego
3. Shaun Murphy, San Diego
4. Matt Pierce, Huntington Beach
Team Event:
1. Orange County
2. Central Cal
3. San Diego
4. NorCal
5. BBK (Orange County club team)