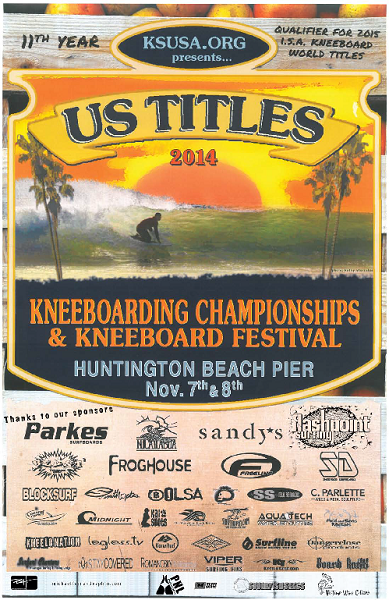 JACK BERESFORD WINS FIFTH U.S. KNEEBOARD TITLE AT HUNTINGTON BEACH PIER
Jack Beresford of San Diego reclaimed the Open Championship at the 11th Annual KSUSA U.S. Titles today in Huntington Beach. The win earned Beresford an unprecedented fifth KSUSA U.S. title.

Seventy kneeboard surfers competed over two days and were treated to summer-like weather and glassy, chest-high peaks on the south side of Huntington Pier.
Beresford was challenged by a strong performance in the open final from former U.S. Champ Bill Lerner of Cardiff – who earned "10s" from two judges for backdooring a barrel late in the heat. Finishing third and fourth respectively was Huntington Beach standout Pat Evans, and Ed Quinn of Sherman Oaks.
Kathy Yturralde of Huntington Beach continued her dominance of the Women's division winning her fourth-straight KSUSA U.S. title. Cynthia Wornham of Malibu finished second and Kiana Tennant of Point Hueneme finished third.
Evan Odom of Vista claimed the Juniors title, holding off first-time competitors Hunter Johnson of San Diego and Jock McHugh of San Francisco.
Brad Colwell of San Diego won one of the closest finals of the day narrowly edging Huntington Beach's Mike Butler in the AAA division final. Last year's Juniors champ, Chris Linn of Laguna Niguel took third, and Roger Hughes of Santa Cruz finished fourth.
Huntington Beach kneeboarder "Big" Fred Rodriguez earned some of the loudest cheers on his way to winning the AA division ahead of San Diego's Matt Cunningham, Paul Devoy of Huntington Beach, and John Mel of Santa Cruz.
The event concluded with the Sandy's Cup Challenge – a one-hour heat pitting teams of four in a tag-team format. Team NorCal held off the field to win the perpetual trophy – which is on display at Sandy's Beach Grill.
Established in 2003, Kneeboard Surfing USA is dedicated to promoting the sport of Kneeboard Surfing through competitions, kneelo gatherings and other activities. For more information visit www.ksusa.org<http://www.ksusa.org>.
RESULTS:
Open: 1. Jack Beresford, 2. Bill Lerner, 3. Pat Evans, 4. Ed Quinn
AAA: 1. Brad Colwell, 2. Mike Butler, 3. Chris Linn, 4. Roger Hughes
AA: 1. Fred Rodriguez, 2. Matt Cunningham, 3. Paul Devoy, 4. John Mel
Women: 1. Kathy Yturralde, 2. Cynthia Wornham, 3. Kiana Tennant
Juniors: 1. Evan Odom, 2. Hunter Johnson, 3. Jock McHugh
Team Event: Team NorCal: Don Harris (Captain), Roger Hughes, Randy Reed, Mike Sears, Ed Quinn