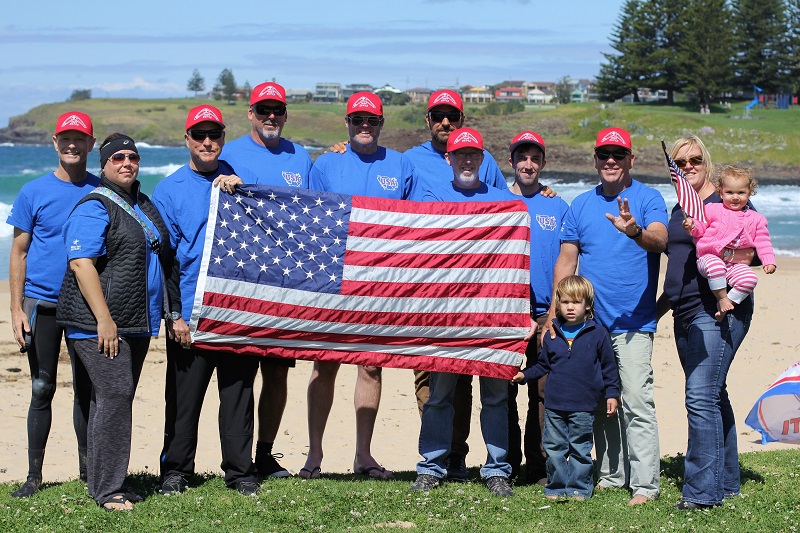 Anticipation Fulfilled
2015 Kneeboard Surfing World Titles
by Brad Colwell
Anticipation/Planning/The Team
Kneeboarding is a form of surfing that is, to those who do it, extraordinary. Sure, everyone who rides waves shares that special experience which is "the stoke" that unites all surfers. But in the Surfing World there are very few who choose this form. So it's common for a kneerider out surfing to give a wave or strike up a conversation with another kneerider if their paths cross in the lineup, and friendships are often created that can last for years. When these friendships extend beyond the borders of your own country, opportunities to get together for a surf, or a meal, are infrequent. Thus, the ISA Kneeboard Surfing World Titles, held every 2 years, provide a tangible opportunity to rekindle friendships and, of course, make new ones.
The 2015 Worlds were held in September in Kiama, NSW Australia and for the 8 members of Team USA, all who have traveled/surfed internationally, the anticipation could barely be contained. Team members included Ed Quinn and Dave Grgas, from LA; John Hancock from Texas; Jamie McHugh from San Francisco (by way of NSW); and Randy Morris, Joe and Sam Coyne, and Bradford Colwell from San Diego. Also along for Team USA support were John's wife Ann, Dave's wife Ardean, and The Morris Family–Randy's wife Jenny and children, James and Shelby, in addition to his mother.
Arrival-Precontest
Arrivals began a week prior to the contest for Joe and Brad, EQ the next day, and continued into Monday, the first day of competition, when Sam finally arrived. Team members who arrived early had the opportunity to surf around NSW from Copacabana, Sydney's Northern Beaches, the Gong, to Ulladulla and enjoyed a nice swell mid-week. Weather was outstanding overall with some strong southerly winds mid-week which was not a factor due to the local knowledge of our gracious hosts/guides who got us to the right spots.
Opening Ceremony
Kiama is a beautiful, small coastal town with several coves, ample bluffs, and a great "downtown" with many options for coffee and a pie, restaurants, boutiques, and a couple of surf shops. Out on Blowhole Point the Kiama Lighthouse is a focal point for the surrounding area and, the Blowhole at the end of the point is popular with tourists as well as International Kneeboard Competitors who were in town for the Worlds.
The Opening Ceremony took place at The Kiama Pavillion and Sports Ground above Surf Beach for check –in, welcome, announcements, sponsor recognition, initial heat posting, and a traditional Aboriginal Welcome Ceremony. Anticipation for the start of competition was peaking and everyone enjoyed seeing old and new friends, and catching up on life again.
The Venue
-Bombo
Opening heats were held at Bombo which is a beautiful beach just outside of town. The contest area was up at the north end of the beach where there is a nice carpark that sits atop a gentle bluff and offered a great view of the Kiama Lighthouse in the distance. There was ample parking for competitors, room for the judge's tents and allowed spectators set up beach chairs or towels on the grass where they could take in the action while shooting-the-breeze with friends. The WAKAs were the host club and they set up their tents as well and cooked up delicious hot breakfast every day.
Bombo offered both rights and lefts, but the lefts made up the majority of waves ridden during the heats. The first couple of days the surf was small and clean and gradually picked up into mid-week. The contest began with the Open and John was the first US surfer to surf, and advance. With the small, inconsistent surf, early heat scores were on the low side as surfers were challenged to find waves that offered scoring opportunities. Dave and Randy were unfortunate in this regarding and ended up being eliminated from the Open. In round 2 Joe won his initial heat to advance to the Round of 64 but John came up just 0.04 points short; so close! Jamie, being the veteran, chiseled competitor that he is, snagged a buzzer-beater to advance.
The Tag Team semi-finals were held on Tuesday and with a second place USA advanced to the Final. In the Final Australia started strong and kept piling on so that by the mid-point of the heat the rout was official. USA was a distant third behind Commonwealth until EQ got us back to respectability with strong surfing to make it close for second but we couldn't quite overtake them. Tag Team Competitions at the Worlds are similar to those at the US Titles with lots of jokes and laughter, smack, vain attempts to sabotage boards, and comradery.
Into Wednesday the surf picked up but wave quality dropped a notch as Round 3 of the Open got underway. Sam, EQ, and Jamie were the usual standouts and advanced to Round 4 while Joe and Brad had tough heats and dropped into the repecharge. In the repecharge both Joe and Brad, in the same heat, were unable to find the right waves and were eliminated.
By Thursday morning there was a strong south wind blowing that grew into rain and strong gusts culminating with the "lift-off" of the WAKAs easy up tents, literally. This was amazing, since they were fastened together they then flew through the air where they were then deposited onto the adjacent cars parked nearby causing several major dents and scratches. An attempt to fill and place sandbags to support the judges tents was futile and resulted in the contest being placed on temporary hold in order to relocate to Surf Beach. Before the chaos however, Sam surfed to a solid 2nd place in his Round 4 heat while both EQ and Jamie were eliminated. EQ in very challenging, windy and backing off conditions while Jamie was edged out in the final 30 seconds by Michael Novokov, holder of several World Titles.
-Surf Beach
Competitors arriving at Surf Beach found the Wedge was going off and Simon already in the water. The strong south swell was sending waves that rolled up against the north cliff and reflected back to create an exciting and challenging break not too dissimilar from Newport's own. Simon was on fire. He was dropping in late, coming square off the bottom, and pulling incredible hacks under the lip as the waves would close out into a pounding shore break. Overall however the conditions were deteriorating with strong onshore winds and marginal conditions, the kind of conditions where, if at home you just go and get a cup of coffee and watch it. But, the contest went on as there were still many Open and Age Group heats to get through. Spectators, and nervous competitors, were treated to inspired surfing and many crushing wipeouts. Scoring waves were often the result of one or two good turns before getting annihilated by a closeout. Drops that were too late or hitting a piece of chop resulted in the same punishment.
US kneeboarders may wonder about "US Standouts" during the Worlds. Well, Sam made it to Round 6 where he was finally left with that empty, disappointing feeling everyone has when they are eliminated from the Open. Realizing an Equal 13th in the Kneeboard Surfing World Titles, in Australia, against a deep and experienced field that included every World Title holder since the 80s helped to temper the feeling. Along the way however, Sam stood out. At Bombo and continuing at Surf Beach people would lift their heads a bit and take note when Sam took off. Often, there were comments about how good Sam was surfing. His commitment to keep pushing for a big score provided a lot of entertainment as well, always going for it no matter what. At the 2009 World Titles in Opunake Albert put on a display of commitment in his surfing that was eye opening to this writer; going big at every opportunity. While not making all of his waves the waves he did make won him heats and got him far into the Open. Of course he is now the holder of two World Titles. This is not to place pressure on Sam or make an unfair comparison, just an attempt to describe his commitment that others observed in Kiama.
EQ, Jamie, Brad, and Sam all surfed strong to make their age group finals and bring home some hardware.
Awards Ceremony
The Kiama Leagues Club was the venue for evening gatherings during the week and for the Awards Ceremony on Sunday afternoon. It was standing-room-only for the competitors, friends, and family who had gathered one last time before departing. The atmosphere was relaxed, cheerful and sincere as people reminisced about what had just happened during the week. Jim Brown emceed the Program with precision and grace. Winners were allowed to make comments which ranged from lighthearted or funny, to humble and sincere, with an overall stoke that was palpable. Stoke for kneeboarding and the small community that we are….articulated well by Albert and Terry Day, demonstrated by Gavin's tribute to his mentor Scotty and gift of his board signed by everyone, and by EQ's tribute to Sprocky.
Team USA would like to give a big shout-out thank you to Jim and Jill Brown, Phil Arthur, Ken Stapleton, and Terry Day; the sponsors and judges; the WAKA crew and all of the other volunteers who worked so hard to make the 2015 Titles a great success!
Congratulations to Albert Munoz 2015 ISA World Kneeboard Surfing Champion
Congratulations to Albert Munoz on earning his second Kneeboard Surfing World Title in an exciting and closely fought man-on-man battle with second place finisher Chayne Simpson.  Albert and Chayne had to beat out former world champions Simon Farrer and Gavin Colman to make their way into the final heat.
2017 World Titles
In less than two years the 2017 Worlds will be held in Cantabria Spain. It's not too early to start planning and we hope to have a large US Team make the trip (a quick check of the map shows that Cantabria is in striking distance to Mundaka and the beach breaks of southern France if anyone needs extra motivation!).
USA RESULTS
OPEN
Round 1, Heat #5: 1. Tony Unicomb (3.5) 2 John Hancock (2.85)
Round 2, Heat #9 1. Pete McClure (9.75) 2. Brad Marshall (8) 3. Tony Unicomb (3.85) 4. Randy Morris (3.85)
Round 2, Heat #10 1. Peter Whitehouse (3.5) 2. Jade Erwann (3.13) 3. John Hancock (3.1)
Round 2, Heat #14 1. Joe Coyne (5.6) 2. Peter Flood (5.2) 3. Bevan Bache (4.6) 4. Maui Sanford (4.2)
Round 2, Heat #16 1. Graham Willis (12.75) 2. Jamie McHugh (6.7) 3. Mark Jeffrey (6.1) 4. Dave Grgas
Round 3, Heat #3 1. Dale Ponsford (11.4) 2. Sam Coyne (7.75) 3. Heimata Carroll (6.85) 4. Adam Flanagan (5.75)
Round 3, Heat #9 1. Mark McLeod (11.5) 2. Anthony Cridland (11.25) 3. Joe Coyne (5.5) 4. Sergio Silva (4.25)
Round 3, Heat #10 1. Gavin Colman (15.5) 2. Wayne Jennings (9.5) 3. Bradford Colwell (7.8) 4. Peter Flood (6.95)
Round 3, Heat #11 1. Ed Quinn (11.15) 2. Graham Willis (9.2) 3. Craig Tinsley (7.35) 4. Philippe Klima (5.25)
Round 3, Heat #12 1. Baden Smith (12) 2. Jamie McHugh (9.15) 3. Rob Rennie (5.6) 4. Michael Watkins (4.8)
Open Repecharge
Round 4, Heat #5 1. Michael Watkins (7.35) 2. Philippe Klima (6.2) 3. Bradford Colwell (5.6) 4. Joe Coyne (4.45)
OPEN-cont
Round 5, Heat #3 1. Karl Ward (14.25) 2. Sam Coyne (7.25) 3. Jason Harrison (4.35) 4. Craig McDonald (4.25)
Round 5, Heat #8 1. Gavin Colman (13.5) 2. Anthony Cridland (8.9) 3. Ed Quinn (3.75) 4. Philippe Klima (3.65)
Round 5, Heat #10 1. Kyle Bryant (14.25) 2. Michael Novokov (7.65) 3. Jamie McHugh (6.5) 4. Lachy Stevens (4.6)
Round 6, Heat #2 1. Karl Ward (8.75) 2. Matt Gallagher (8.2) 3. Sam Coyne (6.75) EQUAL 13th! 4. Matt Novokov (4.45)
AGE GROUPS
Pro Junior Semi Finals 1. Sam Coyne (9.5) 2. Matt Novokov (7.1) 3. Chris Newton (3.1)
Pro Junior FINALS 1. Matt Novokov (9.5) 2. Sam Coyne (9.4) 3. Cameron Stanley (4.5) 4. Shane Whitehouse (4.4)
Grand Masters Quarter Finals 1. Ed Quinn (8) 2. Carl Heidke (4.2) 3. Phil Arthur (4.2) 4. Kaz Everingham (2.55)
Grand Masters Semi Finals 1. Gigs Celliers (10.85) 2. Ed Quinn (9.95) 3. Tehei Tuanine (9.1) 4. Carl Heidke (4.3)
Grand Masters FINALS 1. Simon Farrer (13.75) 2. Nick Hartigan (8.4) 3. Gigs Celliers (7.85) 4. Ed Quinn (6.35)
Veterans
Round 1, Heat #1 1. Graham Willis (11.15) 2. Andy McNeil (5.55) 3. Randy Morris (4.5) 4. Dave Grgas (2.1)
Veterans Quarter Finals
Heat #1 1. Baden Smith (10.6) 2. Grant Dennis (6.85) 3. Patrick Johnson (3.5) 4. Joe Coyne (3.25)
Heat #2 1. Dale Ponsford (12.5) 2. Jamie McHugh (11.35) 3. Lenny Viall (7.75) 4. Andy McNeil (1.8)
Veterans Semi Finals 1. Dale Ponsford (9.6) 2. Jamie McHugh (5.2) 3. Baden Smith (4.25) 4. Grant Dennis (2.8)
Veterans FINALS 1. Terry Day (13.35) 2. Michael Novokov (10.4) 3. Dale Ponsford (9.2) 4. Jamie McHugh (8.15)
Kahunas Quarter Finals 1. Bradford Colwell (8.15) 2. James Gustard (2.35) 3. Brad Arman (0.9)
Kahunas Semi Finals 1. Wayne Jennings (8.85) 2. Bradford Colwell (8.65) 3. Jim Brown (4.95)
Kahunas FINALS 1. Wayne Jennings (10.45) 2. Ken Horton (8.75) 3. Bradford Colwell (8.6) 4. Peter Flood (3.2)
Legends Quarter Finals 1. Murray Weir (6.8) 2. Rob Rennie (6.7) 3. John Hancock (5.05) 4. Robert Jordan (4.35)
TAG TEAM (USA: Ed Quinn, Sam Coyne, Jamie McHugh, Bradford Colwell)
Semi Final #2 1. Commonwealth (UK + South Africa) 2. USA 3. Tahiti
FINALS 1. AUS (49.3) 2. Commonwealth (28.8) 3. USA (23.25) 4. New Zealand (17.7)
Division Winners

Opens

Ist – Albert Munoz (Aus)
2nd – Chayne Simpson (Aus)
Equal 3rd – Simon Farrer (Aus) and Gavin Colman (Aus)

Cadets

1st – Jared Lewis (NZ)
2nd – Chad Collis (Aus)
3rd – Jed Collis (Aus)
4th – Jock McHugh (USA)

Juniors

1st – Tom Novakov (Aus)
2nd – Lachie Stevens (NZ)
3rd – Liam Taurins (Aus)
4th – K. Poptee (Tahiti)
5th – Cody Devall (Aus)

Pro Juniors

1st – Matt Novakov (Aus)
2nd – Sam Coyne (USA)
3rd – Cameron Stanley (NZ)
4th – Shane Whitehouse (Aus)

Senior Men

1st – Albert Munoz (Aus)
2nd – Chayne Simpson (Aus)
3rd – Dane Rennie (Aus)
4th – Karl Ward (UK)

Masters

1st – Gavin Colman (Aus)
2nd – David Hernandez (Spain)
3rd – Andrew Heaton (Aus)
4th – Kyle Bryant (Aus)

Grand Masters

1st – Simon Farrer (Aus)
2nd – Nick Hartigan (Aus)
3rd – Gigs Celliers (South Africa)
4th – Ed Quinn (USA)

Veterans

1st – Terry Day (Aus)
2nd – Michael Novakov (Aus)
3rd – Dale Ponsford (Aus)
4th – Jamie McHugh (USA)

Legends

1st – Phillipe Kilma (Tahiti)
2nd – Paul Satchell (Aus)
3rd – Craig McDonald (NZ)
4th – Murray Weir (NZ)

Kahunas

1st – Wayne Jennings (Aus)
2nd – Ken Horton (Aus)
3rd – Bradford Colwell (USA)
4th – Peter Flood (Aus)

Immortals

1st – Paul Burridge (Aus)
2nd – Rudy Lausz (Aus)
3rd – David Condon (Aus)
4th – Peter Ware (Aus)

Womens

1st – Karelle Poppke (Tahiti)
2nd – Anne Milochau (France)
3rd – Kaz Everingham (Aus)
4th – Sascha Taurins (Aus)

Country Tag Teams

1st – Australia
2nd – Commonwealth
3rd – USA
4th – New Zealand