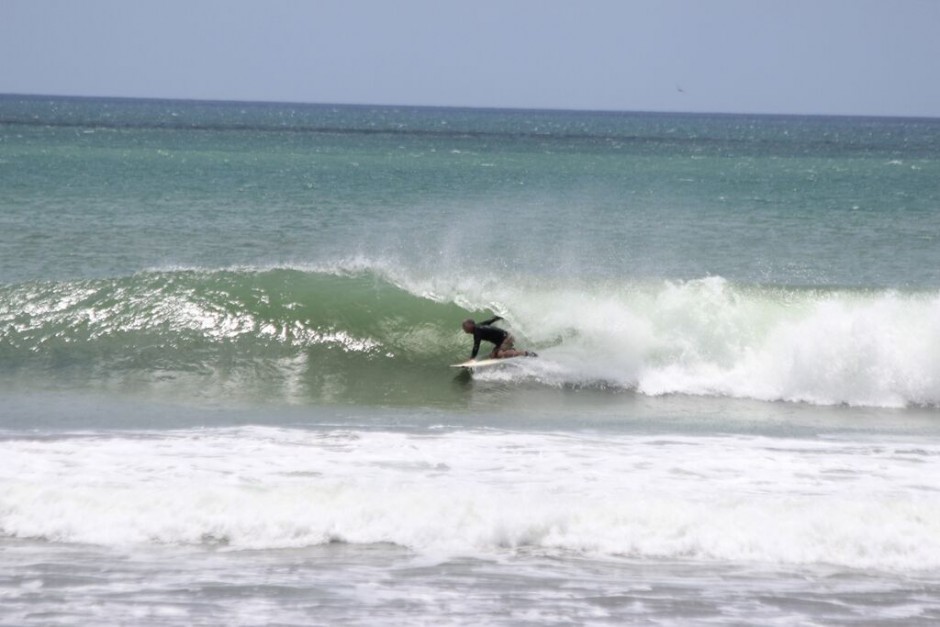 Story by Jack Bereford.
"Va Pue" is a Nicaraguan expression that means "just go for it" and/or "go well." Neither my brother Chris nor I had taken a real surf trip – one requiring flight reservations – in more than 10 years. I won't bother you with excuses, but yeah, we were WAY overdue. Va Pue!
But where to go? We heard a lot about Nicaragua: decent swell exposure, a relatively short flight, and solid beachbreaks. On top of all that, Lake Nicaragua generates off-shore winds all day. It sounded like a poor-man's Indo.
Based on advice from several guys from the OC kneelo crew we booked a trip with Surfari Charters, which operates out of Playa Guascate – on the southwest coast. It was a REALLY good call. Kristen and Lance, our hosts, are amazing people who run a first-class surf camp. Both are surfers and their entire focus is on making sure you have a great experience and maximize your time in the water.
Joining us on the trip was Blacks charger (and standup) Chris Coggan. Chris is a pretty funny guy who has traveled most parts of the world – surfing and just exploring. He was a lot of fun to hang with. He also didn't mind putting up with not one but two Beresfords in the water (like traveling with your own private crowd).
The travel itself was pretty easy: a five-hour flight from LAX to San Salvador with a quick transfer and then a 45-minute flight to Managua. Our boards arrived safe and, after an uneventful night at a plush Managuan hotel, we were picked up at dawn by Surfari's driver who greeted us with a cooler full of cold "Toñas." A good start!
Our ride to the coast gave us a chance to see a little of countryside. Nicaragua has more volcanoes per square mile than any other country in the Western Hemisphere. They are all over the place and not hard to spot. Nicaragua is also the second-poorest country in the Americas. I've been to some poor areas in Mexico but this was on another level. In rural areas the people live a pretty humble existence, many without running water or power. Hopefully increases in tourism (including surf tourism) will lead to more jobs and infrastructure improvements.
We arrived at Playa Guacaste mid-morning as the offshores started to blow. The Surfari crew welcomed us warmly and encouraged us to hit the surf before breakfast. A southern hemi swell had peaked the day before and there were thumping overhead rights at the river mouth-beachbreak that sits in front of Surfari's "Beach House."
After catching a couple of set waves, I started wondering if two boards would be enough for the week. The rivermouth was breaking like a reverse version of Blacks with this wedge right running down the beach into a very shallow inside section. About a dozen guys were out including Lance and several of his staff. They've got the place dialed. My brother wasted no time and was quickly getting shacked going both left and right.
"SUBU" (Show Up Blow Up) is Surfari's unofficial motto. We laughed a little at its cheesiness but it's true to their stoke and welcoming attitude. Out of habit I wore a watch that first session. Then I realized there was no reason. We were going to be there for a week surfing up to three times a day for as long as we wanted. We were Surfari's only three guests that week so whenever we wanted they would call back to the kitchen and make us breakfast, lunch, or dinner. Just in case we decided to stay put, they packed sandwiches in our cooler (along with more beer). Nice setup!
One of the best parts of the trip was meeting some of the very cool people Surfari employs as their surf guides. Most are ex-pats from Florida or other parts of the East Coast. These guys worked their butts off to make our experience a memorable one: arriving before dawn to have cereal, juice and coffee ready so we could have a quick breakfast before hitting the rivermouth.
Each day you got a different guy assigned to you and they're pretty much with you non-stop until they drop you back at the Beach House at night. Not that we needed much motivation but they were all super stoked on surfing and especially stoked to see a couple of kneeboarders. I guess the OC kneelo crew made a BIG impression during a recent stay. Suffice to say that Big Fred is a total legend down there! Did I mention that it's all-you-can-drink beer and Flor de caña?
The Surfari crew was also excited to take guests fishing and other non-surf activities. We weren't much into fishing so on a small day "Silent Mike" (our guide) took us to check out Mombacho Volcano with its cloud forest. Later that afternoon we had lunch in Granada, a historic town on Lake Nicaragua.
After some coaxing, we got another guide Travis to take us to a local Independence Day rodeo. It was held at this ramshackle wooden "arena" that looked like a leftover set from Mad Max. The whole scene was hilarious: bull riding was the main event but there was also some type of paramilitary pep band (that only knew two songs), and random drunk locals playing a competitive tag-the-bull game. Many Toñas were had by all. Fortunately, Travis got us out of there before things got really ugly (let's just say alcohol and dudes with machetes are a bad combination).
Our accommodations at the Beach House were simple but comfortable. We had two air-conditioned bedrooms, each with two beds per room. There's a bathroom and a small kitchen with a stocked fridge. For most meals we traveled a short drive to "Base Camp" which has a bar, dining room, guest rooms, and the all-important WiFi connection back to the real world.
On September 16 – my brother's birthday – Base Camp became our home for the night when an 8.3 magnitude earthquake struck off Chile. The quake generated tidal wave alerts up and down the coast. Base Camp is only a few feet higher elevation but it seemed like a good idea. Thankfully the tidal wave was a tiny one and didn't spoil the very nice birthday celebration Kristen and Lance put together for my brother.
We surfed every day for a week with the swell dropping a little each day but staying fun the entire time. My favorite session was the second day of our trip. The southern hemi was still pumping and after an early session at the river mouth we jumped aboard Surfari's 25-foot customized panga to check reef breaks up the coast. We pulled up at a place called "Playgrounds," a left-hand set-up similar to Lower Trestles. It was a foot or two overhead on the sets with only two other guys out. There were a few barrels but mostly it was the type of wave you could really cut loose on. After a two-hour session we were done. Our guide Kevin threw cold beers to us while we were still paddling up to the boat. Even my teetotalling brother had a beer. Va Pue!