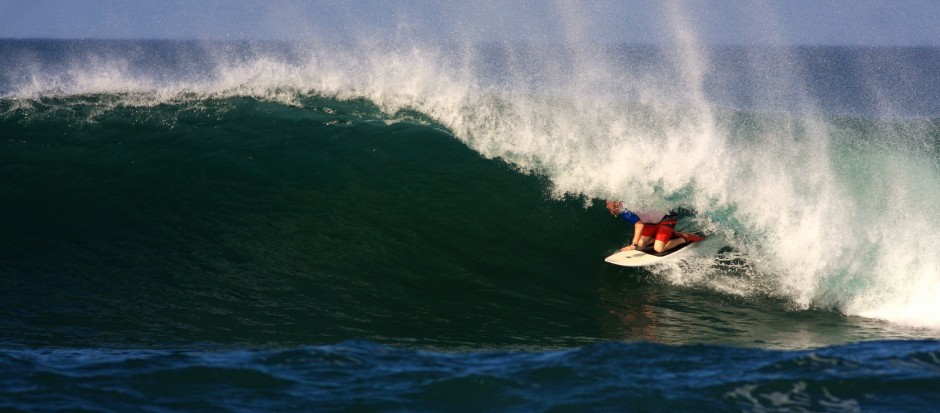 Our friend Henry from the Pacific North West shared this story of his early season trip to Costa Rica.  He was looking for a warm destination for a family vacation and some quality surf.  We think he chose wisely.  We're stoked for you Henry!  Thanks for sharing your story and photos.
PART 1
It can be difficult to find balance between a vacation to keep your family happy and one that will also find you touring the inside of more than a few warm blue cylinders. So to meet those competing demands, for this trip I chose to focus on surfing Costa Rica's Guanacaste coast around the resort town of Tamarindo. Mainly this choice was a matter of travel convenience, of relative safety and comfort for my wife and girl, and because this area of Costa Rica is the most open to the North Pacific swell window. Turns out that the surf during my visit was generated from the more reliable and better shaped Southern Hemi direction, but it was nice to know that getting skunked wasn't likely because of this area's wide swell window. Tamarindo is convenient to the Liberia Airport, only a short hour by car as opposed to five hours from Costa Rica's capitol San Jose. Direct flights from many different departure cities in the US land in Liberia regularly, and airfares are reasonable. My family paid just under $400 round trip from Seattle through LAX on Alaska for one ticket, about $200 for the next as a companion fare, and the third was 30k frequent flier miles. Quite the deal for flying nearly to the equator!
Let's be clear though: although an exotic landscape, Costa Rica's hosted a gringo or million before you. Many have stayed, and many of the trapping of the western good life have followed. Mostly I didn't hate that:
The area in and around Tamarindo is chock full of surf breaks, and also chock full of surfers. The town was essentially established in the 1970's by ex-pat surfers, and nowadays you'll share most line ups with scores of ex pats, local surfers, kids, wives, girlfriends and visitors from far and wide. There are some advantages to this. The surf infrastructure is first rate, and while the seemingly thousands of boards in the 20 or so surf shops in the area won't help a kneelo much, I was able to buy flipper socks and replace a broken fin even at the outlying Playa Negra break and be back in the water in 20 minutes. You can easily search up most of the info you need on where to surf, and there's no shortage of people willing to set you up with tours, photos, or just chat about the details of various spots. The downside is that it can be crowded, and while the Ticos are pretty decent, some of the expats seem to have chips on their shoulders, and worse, some minority of the visitors from California import their local attitude from Sunset Cliffs or Oxnard and generally act like angry, entitled jerks in the line-up. Tico culture is anti-conflict to a fault (really – this shying from conflict is so pronounced it actually produces its own set of social issues), so there is a bit of a power vacuum in the water that jaded, entitled Californians used to bullying line ups at home are happy enough to fill (let me repeat these guys are the minority of Californians down there). Another bummer is the presence of packs of Brazilians who ruthlessly take over line ups with basically zero concept of giving space or taking turns or flowing a little priority in the pecking order to the locals. Fortunately they were far between because the Brazilian economy is tanking and so are foreign vacations for Brazilian surfers. Once or twice on this trip though I found myself pining for the order of something like Black-Shorts Hawaii, even if that meant some spots might be altogether off limits.
And yet apparently I was still able to get my share of waves:
But that's the minority experience for sure. Generally speaking people – and Tico natives in particular – were cool and positive in the water. I've never surfed in a place more stoked to see a kneeboarder. Life is surf down there. The locals were well aware of what a kneeboard was and, like bird-watchers who'd never caught glimpse of a rare species, thrilled a little at first contact. There were positive affirmations, fist bumps, smiles after good waves. Ticos are generally reserved, and that culture persists in the line ups, but they also tend to respond well to friendliness and are easy enough to engage positively in the water between sets, and they tend to repay coolness with coolness. Even the crowded line ups are competitive but fair, and, to be certain, you get far more waves of a given quality even at max-pack in Costa Rica than you would in similar conditions in San Diego or Santa Cruz.
Sequence: exercising a little elbow room in 84 degree water