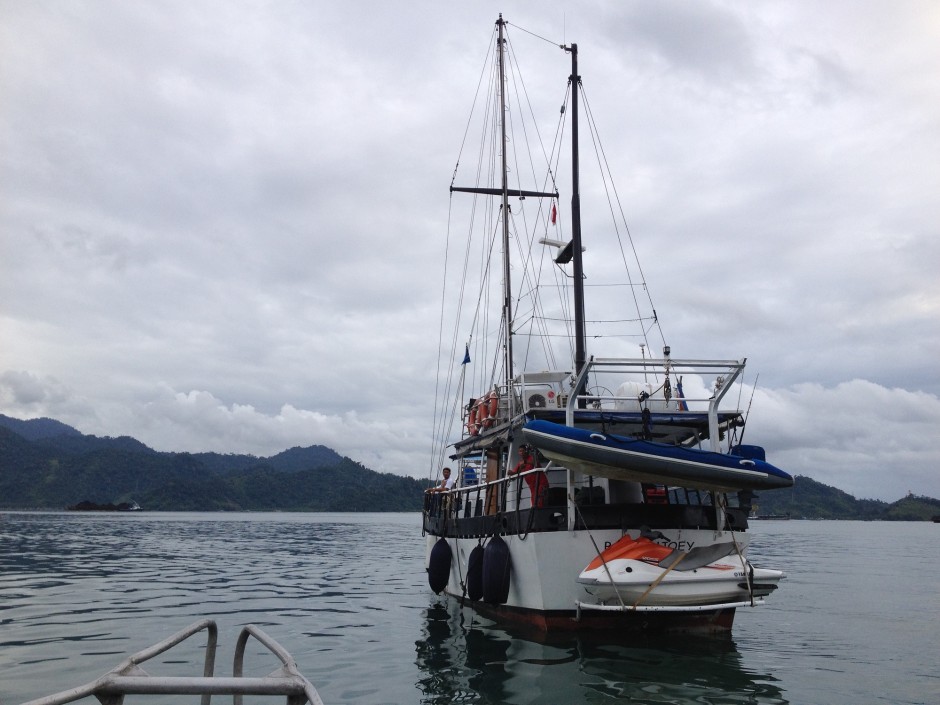 After two years of planning, eight California kneeboarders set off for a 10 day Indonesian boat trip on board The Barrenjoey. Kenny Honingford meticulously planned and organized the trip. The Barrenjoey with hard charging kneelo Captain Jason Quinn was selected as our yacht charter. The cast of characters, hand selected for their good looks and superior surfing, included Max Bollinger, Eric Peterson, Joe Taylor, Danny Robertson from Newport, Brad Colwell and Joe Coyne from San Diego, and Freddy Peterson representing Central California.
The Cast and Crew 
Here's a quick rundown of the spots we surfed on our recent trip to the Mentawais, and some brief memories from the gang. Thanks to Captain Jason Quinn and the crew of the Barrenjoey.
Day 1: HTs (WH – HH) and Bintangs (CH)
Day 2: Poor weather; traveled north to meet up with the Nusa Dewata to pick up lost boards for Kenny, Joe Coyne and Joe Taylor, Fred, and Brad
Day 3: Playgrounds: A-frames (SH – HH+) and Nipussi (up to DOH)
Day 4: Playgrounds: Burgerworld (OH, bumpy with wind) and Nipussi (HH to several feet OH)
Day 5: Monkey's (HH+) , inside Lance's Left (SH-HH), and Bintangs (CH-HH)
Day 6: Macaronis (HH- 1′ OH) and a small righthander down near Greenbush (WH-SH)
Day 7: A couple of rights in the Thunders area, RedNuts and JT's right (WH to DOH+)
Day 8: Roxies (WH to SH) and Thunders (HH+ to DOH)
Day 9: Macaronis (1-3′ OH)
Day 10: Lance's Left (DOH+)
Surf Gallery
Kenny
It was an amazing trip…filled with everything from a potentially disastrous start (the lost boards and unfavorable WNW winds) to moments of pure magic ( the hour of perfect, uncrowded Macaroni's that Brad, Joe Coyne, and I shared, the utterly fearless charging of Freddy P at Lances Left, and seeing Joe Taylor getting playful tropical waves all to himself at Roxy's). All in all, a great trip aboard the Barrenjoey with a fantastic Skipper and crew, one that I will remember for a long time to come. Hope we can all do it again!
Joe Taylor
As you may know, one of the members on this trip, Freddy Peterson, has a prosthetic leg. His leg broke in half from the boat rocking, and I was fortunate enough to get to repair it! We put out a call to some boats in the area, and watching all the boats rally around to give us enough fiberglass was AWESOME! Even more amazing was when one of the other deckhands remembered Freddy from two of his other trips to the Mentawais. I got enough fiberglass so I could get the repair done. Seeing Freddy's expression on his face change from being bummed out back to being stoked about being on the trip was so cool!
So, we're surfing Roxy's for a while in perfect conditions, oil glass, conditions I've never surfed in my life, with fun-sized waves. Then, all the guys decided to go surf Thunders. Me, looking around at the conditions, with the clear water and beautiful backdrop, and outstanding waves where I was at, decided to just stay put. Surfed at Roxy's for another 2 ½ -3 more hours, completely by myself. I lost count of how many fantastic waves I had. I never in my life, would have thought I could have experienced something quite like this. While riding the waves, and the sun back-lighting them, it was like surfing in a perfectly clear aquarium, as you looked directly into the wave. I will never forget this trip, for as long as I live, especially these 2 ½ -3 hours of pure bliss at Roxy's.
Fred
Number one was Jason Quinn getting us to waves with great conditions with mostly just us out in them, Yeah I had a blast…..
Number two was Joe Taylor fixing my leg (prosthetic). Without him doing what he did I couldn't of done what I did, and that was having fun surfing with all my friends, and not thinking about how I was going to get home without Woody…..(prosthetic)
Danny
This was not just another surf trip in search of scoring perfect waves. This was a historic mission that may never be matched in the Mentawais. These 8 California kneelos have not known each other since childhood, but have recently become lifelong friends as they have discovered their similar passion for riding waves. The 50+ group have shared waves and trips over the last decade or so, but nothing like what they found on the Barrenjoey! Having a kneelo Captain was incredible helping us find tubes and waves of consequence. Surfing with just our group at Thunders for a memorable afternoon session and dominating the lineup at perfect Macaroni's is something I'll never forget!
Max
I remember the trip starting with 5 missing boards, 5 unhappy kneeboarders, and a Skipper that busted his ass to get it handled. A fun first day at HTs , an overnight trip to meet another skipper, and alot of happy kneeboarders on the trip of a lifetime
Brad
One of many standout memories for me is Eric's first barrel at Monkey's, and really the first proper tube that anyone had had on the trip up to that point (Day #5). It was nearing the end of the session and several of us were already in the speedboat waiting to head back to the Barrenjoey. Eric takes off on a larger wave that was superclean and just threw out over him as he was pulling in. It was a gaping barrel with several seconds of travel time with the sun shining through the lip to light him up in the tube. Although he didn't quite make it out you couldn't tell by all of the hooting and yelling from the boat and lineup. That tube served as a reference point for the rest of the trip as we all referred to it on several occasions afterwards. It also heightened anticipation of barrels yet to come for all of us, especially with a stellar forecast for the final 5 days of our trip. Then, the following morning, our first at Macaronis, I got barreled on my first 3 waves!
The Barrenjoey was a great vessel for our trip with an outstanding crew that worked non-stop to ensure that all of our needs were seamlessly met. I was also stoked to be a part of a kneeboard crew that maintained a positive attitude and charged throughout! Jason Quinn is an outstanding Captain and did a fantastic job getting us to good surf..and he totally charges.
Eric
My trip to INDO was everything I hoped it would be. I was thankful for the opportunity to travel with a great bunch of guys and surf world class waves. I want to thank Jason Quinn and the crew of the Barrenjoey for putting us on the best waves possible everyday! This trip was a life experience I will be telling my grandkids about for years to come. I am definitely able to cross this off my Bucket List!
Joe Coyne
This trip was the adventure of a lifetime that I was fortunate enough to share with a great group of fiends and Captain Jason Quinn, a fellow kneeboarder. The Barrenjoey is a 75 ton steel hulled motor sailer that provided us a comfortable home for 10 days on the Indian Ocean. A fast skiff provided the flexibilty to explore any of the breaks in the area. The crew was great and the never ending supply of fantastic food was unbelievable. Captain and Surf Guide Jason Quinn continually put us in the right spot for the conditions, often times with nobody else around.
Lowlight:
Five board bags lost by the airline.
Highlights:
Jason pulled out half a dozen boards from his quiver to keep us surfing.
The look on Kenny's face when it was confirmed our boards were being delivered
Joe Taylor repairing Freddie's broken leg
Freddie charging Thunders and Lances Left like it was his local break
Sunsets and star gazing on evening passages
Culture Shock:
The wild and chaotic traffic of Padang.
Beer and Pizza at the pub in Padang while the call to prayer rang out at the Mosque nextdoor.
Most Memorable Surf Sessions:
RedNuts a short but heavy right hander. I surf four sessions in one day.
A sunset session at Thunders with nobody else around.
Morning session at sizable Lance's Left all to ourselves.
Perfect afternoon Macaroni's session for the whole kneeboard crew!
Wipeouts:
Kenny stuck in the lip and over the falls at Monkeys
Max over the handlebars on a verticle drop at RedNuts
My last wave of the trip at Lance's, straightened out and wave detonated behind me tossing me into the air and onto the reef. No injuries. Quit while I was ahead.
This was a trip I will never forget. Let's do it again!