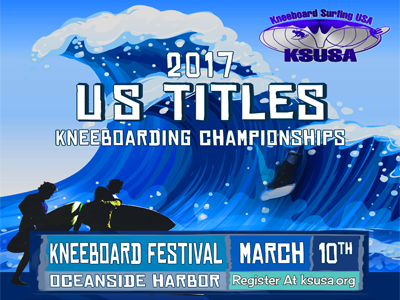 The 2017 US Kneeboard Titles and Festival will return to Oceanside, CA for the first time since 2008. This event will celebrate the 14th year of Kneeboard Surfing USA sponsored kneeboard surfing competition, including 11 US Titles and one World Titles event. The Kneeboard Surfing USA Titles will be held on Friday March 10th, 2017. The last US Kneeboard Titles were held in Huntington Beach and were an overwhelming success.
KSUSA will partner once again with WSA to bring the contest back to Oceanside.  WSA's considerable experience organizing and running surf contests will help to ensure this event will be a success.
The 2017 US Kneeboard Titles will serve as the primary US qualifying event for the 2017 World Titles in Spain.  Results will be used to rank US competitors for seeding into the World Titles.
2008 Junior Heat with South Jetty firing in the background
Organizing Committee Contacts
A dedicated group of Kneeboard Surfing USA volunteers and supporters are working hard behind the scenes to make this event a success. If you have any questions about the event, the entry process, or you would like to volunteer or sponsor the event, please contact the contest committee at ksusa.webmaster@gmail.com.
2017 SPONSORS – The generosity of the following sponsors make this event possible. Support those that support our sport.  Please check back frequently as we add new sponsors and contest information.
———  Premier Sponsors  ———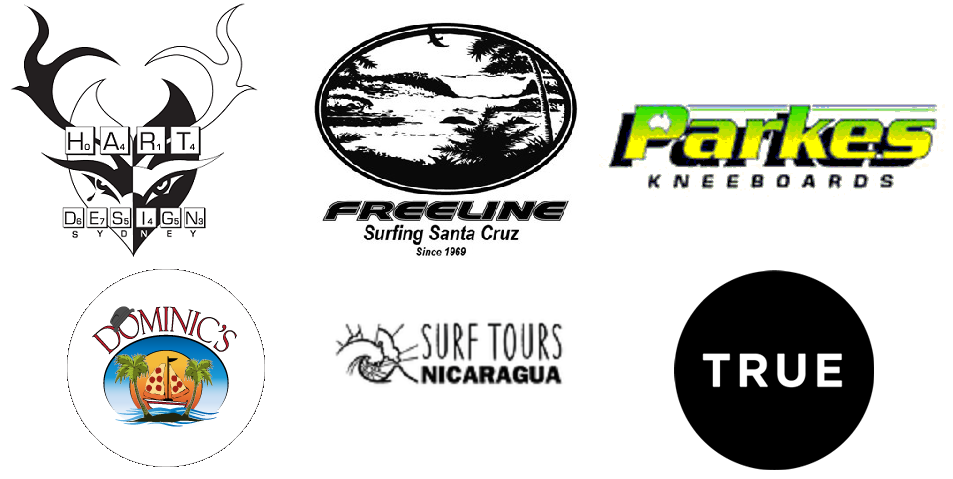 ———–  Event Sponsors  ———–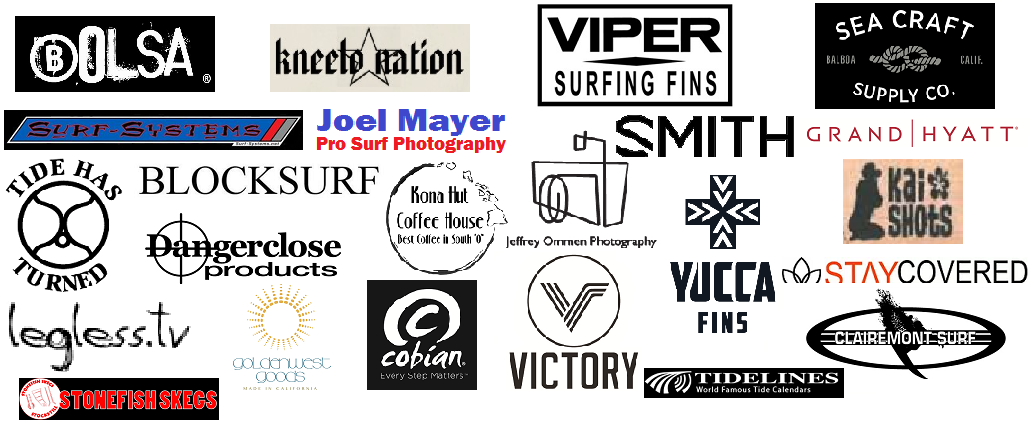 THE CONTEST SITE
The venue for the contest will be the Oceanside Harbor South Jetty.
THE COMPETITION
2017 US Kneeboard Titles Divisions:
Open – All contestants
AAA – *
AA – *
Junior – under 21**
Women's Division
* As contestants are bumped from the Open Division they will be placed in the AA and AAA division based on their open results.
** Age determined as of January 1, 2017
*** A minimum of two entries is required to run each division.
Tom Backer 2008 US Kneeboard Champ, Oceanside
HEATS
Heats to be four to six man and of 15-20 minutes duration depending upon conditions and decided by contest director and head judge.  All heat draws and results will be posted on the KSUSA website.
ELECTRONIC ENTRY FORM
On-Line Registration: Click here for On-Line Registration
There is a small convenience fee for on-line registration.  If you have problems with the registration process or have questions about the event, please e-mail ksusa.webmaster@gmail.com.
MANUAL MAIL-IN ENTRY FORM
If you prefer to avoid on-line transactions and save money on the convenience fee, then use the manual entry form. The deadline is February 10, 2017 for mail-in entries to allow for manual processing.
Click here for manual mail-in registration form.
ENTRY FEES
OPEN: $95.00
JUNIOR: $30.00
Both JUNIOR and OPEN: $30.00
WOMEN: $30.00
Both WOMEN and OPEN: $95.00
JUDGES PANEL
All judges will be selected as accredited by WSA.
JUDGING CRITERIA
Surfers must perform to the WSL judging key elements to maximize their scoring potential. Judges analyze the following major elements when scoring waves.
Commitment and degree of difficulty
Innovative and progressive maneuvers
Combination of major maneuvers
Variety of maneuvers
Speed, power and flow
NOTE: It's important to note that the emphasis of certain elements is contingent upon the location and the conditions on the day, as well as changes of conditions during the day.
NOTE: The following scale may be used to describe a Ride that is scored:
0–1.9 = Poor; 2.0–3.9 = Fair; 4.0–5.9 = Average; 6.0–7.9 = Good; 8.0–10.0 = Excellent
WSA RULE BOOK
WSA Rules will be used for the contest. Click here to view the 2015 WSA Rule Book
CLIMATE IN MARCH
Air Temperature: Average 68° F High/50° F Low
Water temp: average 59° F
Clothes: Be prepared for chilly mornings and warm sunny days
Wetsuits: 3/2 or 4/3 fullsuit
Surf: March is a good month for surf at Oceanside Harbor with both NW winter swell and
early-season SW swell filling in to create crossed-up peaks. Conditions can vary
depending on the weather but typically there is no shortage of surf.
ACCOMMODATIONS:
There are numerous options for accommodation close to the contest area:
There are many lower cost accommodations within a short drive of the contest venue.
Camping: Overnight camping is allowed in the Harbor Beach area in Parking Lot 11B year round. Overnight camping is allowed in Parking Lot 12 September 15 to May 15 only. Pay parking lot fees are $8.00 from 4 a.m. to 8 p.m., $20.00 from 8 p.m. to 4 a.m., a total of $28.00 per day. No reservations.
EVENING FESTIVITIES:
All evening festivities will be held at Dominic's Italian Restaurant, located at the water's edge in Oceanside harbor, just a short walk from the contest site.
AUCTION AND RAFFLE MANIA
Our generous sponsors have donated boards and gear for the Auction and Raffle Mania fundraiser.
EVENT SCHEDULE
Thursday, March 9th at 6:00 PM – Welcome and Check-in.
Judge's Overview of the Event
1st Round Heat Assignments Posted
Contest Gear and Raffle Ticket Sales
Friday, March 10th,  7:00 AM – Heats Commence
Friday, March 10th,  5:30 PM – Evening Festivities
Awards Ceremony
Auction and Raffle Mania!
Surf Videos and Slide Shows
HEAT ASSIGNMENTS