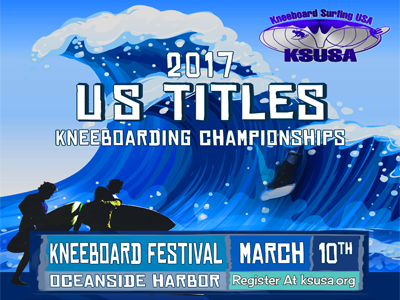 2017 KSUSA US Titles and Kneeboard Festival
Well, that was fun!  The 2017 KSUSA US Kneeboard Titles and Festival took place on Friday, March 10th at Oceanside Harbor, South Jetty.  We had offshore winds in the morning and epic, warm sunny weather with light winds all day.  The surf was a peaky combination of residual south swell and some slowly building W/NW to form very contestable waist to chest-high+ waves.  Local media was on hand for some live interviews as contestants, friends, and family enjoyed the competition.
Congratulation to the Open Champion Tom Backer!  Tom was able to defend his Title that he won in 2008 at Oceanside Harbor and now is the second person to own multiple KSUSA US Titles (Jack Beresford has five Titles).  As in 2008 when the Press Release reported that "Backer's victory was a popular one", Tom's victory at this year's Titles was also very popular!  Tom's surfing in his first heat was radical, flawless, and inspiring and set the tone for what he would eventually accomplish.  In the Final he was able to pick off good waves that allowed for his outstanding ability to be on full display.  Sam Coyne had an outstanding contest, winning every heat until his overall second in the Final.  He surfed aggressively with great flow throughout, and would get the award for "most time spent with the tail of the board above the lip" if one existed!  Pat Evans was consistent, as always, in every heat generating speed and using it to throw big buckets of water.  There is no greater cutback, in my opinion, that Pat's.  Henry Laufenberg had a very strong contest and was able to repeatedly generate radical carves in the pocket to impress the judges.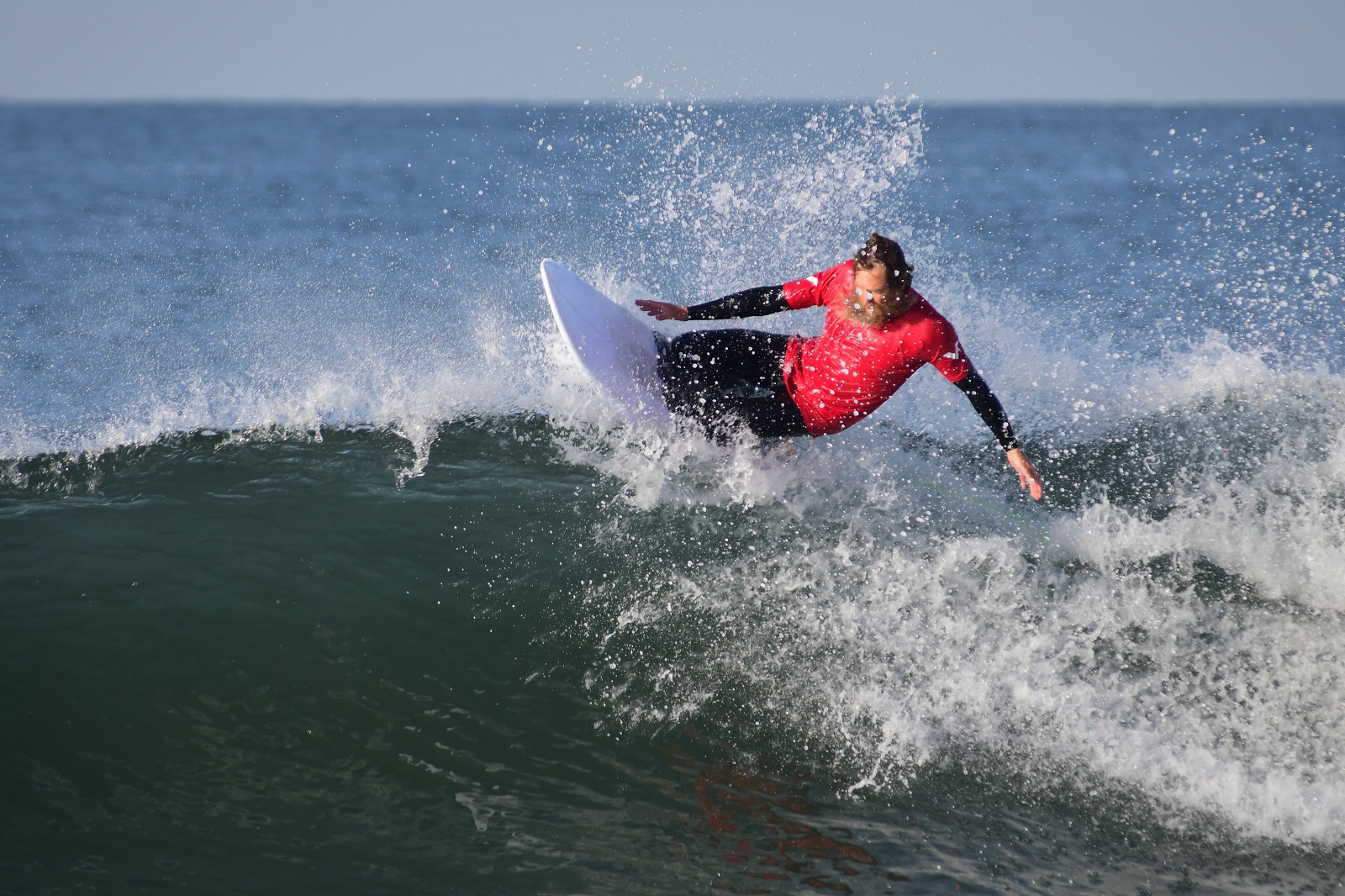 Congratulations to AAA Champion Eric Peterson.  Eric's victory was long overdue and is well-deserved.  Eric is humble, and charges, but was pushed by Chris Linn in the closest Final of the day.  AAA 3rd and 4th, Roger Hughes and Darren Kerr both had a great contest and we enjoyed seeing them surf in this Final.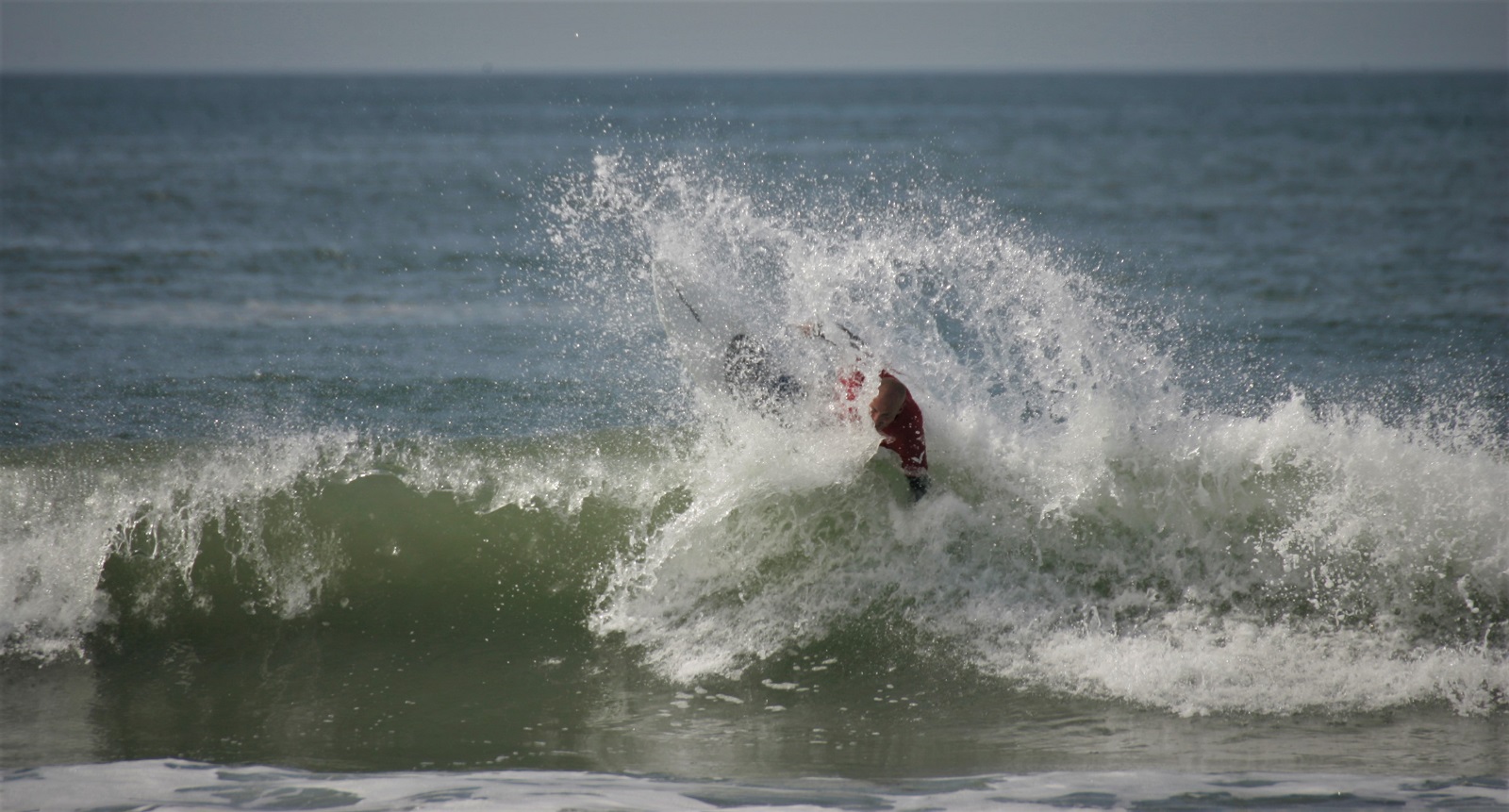 Congratulations to AA Champion Sean Noone.  Sean is a savvy competitor who is always a threat in his heats.  AA 2nd through 4th, Tom Caraisco, Paul Devoy, and Michael Tieger surfed great to make the Final.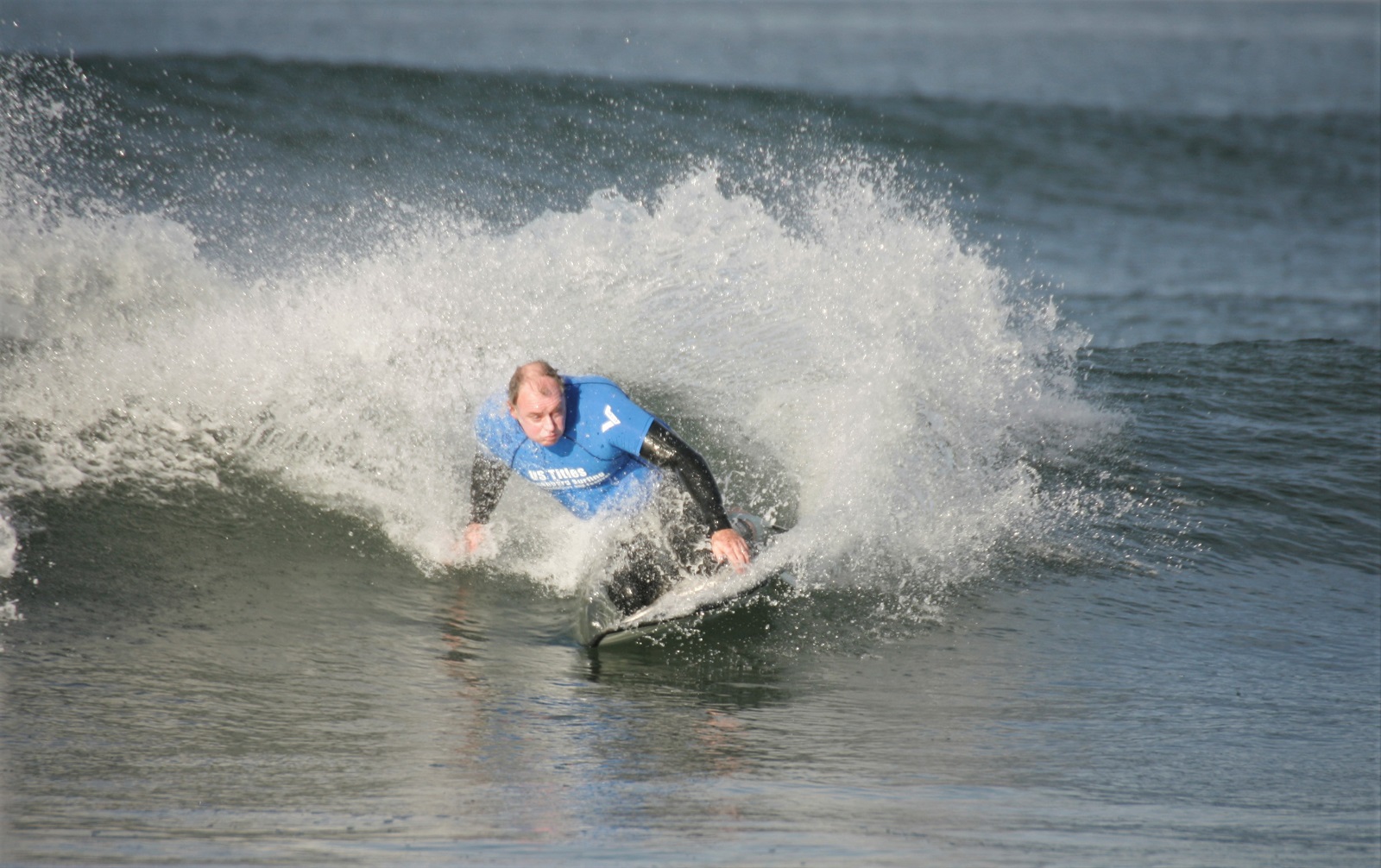 I need to point out, with respect, those Iron Man competitors who ended up surfing 6 heats in this one-day event.  Open Finalist Henry Laufenberg, and AAA Finalists Eric Peterson, Chris Linn, and Darren Kerr all had to advance out of Open Round 2, back into Open Round 3 which made for their 6 heats (including their 30 minute Finals).  We enjoyed watching your Finals as we sat in the shade drinking water ? Congratulations to all of you!
We were entertained again this year by having Rockin Fig do the announcing.  He is amazing with the energy, creativity, and humor that he brings to these events, and his ability to go all day without losing a beat.  Fig, you are a true Pro.  Thanks also to Mike Butler who assisted Fig at various times, and to Jack Beresford who was able to make it to the contest late and assist Fig during the Open Final.
Thanks are also due to the Western Surfing Association who we partnered with for this year's Titles.  Their experience ensured a smooth event from start to finish.  Ed Dimick deserves recognition for organizing the overall contest schedule, heat progressions, and for working seamlessly with WSA to help WSA do their job efficiently and accurately.
We would like to thank those who entered the contest, and those who supported KSUSA with the Raffles and Live Auction.  Your participation and contributions are significant and are appreciated by KSUSA, and help to keep US kneeboard surfing strong. To those of you who wanted to enter but were unable to because of work or travel conflicts, or injury, we know you were with us in spirit.  Also, thank you for your support in purchasing raffle tickets from afar.  There are prizes coming your way!
The Oceanside kneelo crew gets some love here for coming out and sharing their break for a couple days with the larger US kneeboard crew.  You were fine hosts.
The KSUSA Team of Jack Beresford, Brad Colwell, Joe Coyne, Ed Dimick, Tom Linn, Robb Masser, and Casey Patelski are talented, hardworking, and dedicated to KSUSA's success.  Together, we are stoked to support kneeboard surfing.
We are blown away with the trophies that Curtis Odom and Sam Coyne designed, fabricated, engraved, and built.  They are distinctive and I believe they will always be one of the best. Thank you, Curtis and Sam!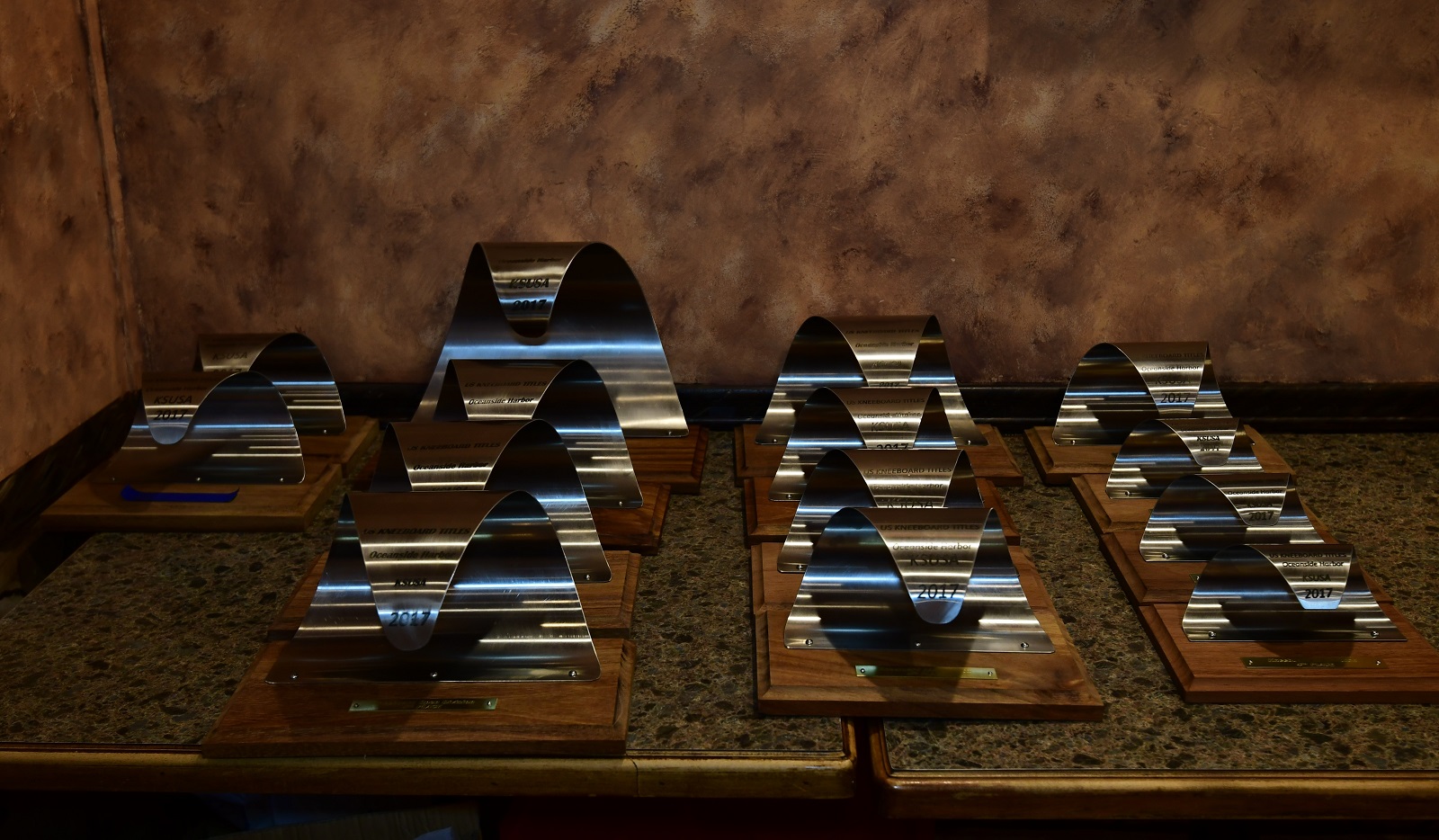 Our sponsors are incredible and were essential to the overwhelming success of the 2017 Titles.  We tried hard to promote them to you during the weeks and days leading up to the Titles, as well as on the beach and at Dominic's for the evening Gatherings and Awards Ceremony.  We hope that you have visited their websites for more information about their products and services, and that you plan to support them as you need new boards, gear, or are planning a surf trip to Nicaragua. As you interact with our sponsors please express your appreciation for their support of the KSUSA Titles.
PREMIER SPONSORS
Dominic's Italian Restaurant, Freeline Design-John Mel, Hart Design-Flashpoint Surfing-Bruce Hart, Parkes Australia- David Parkes, Surf Tours Nicaragua-Alex Hazell, and True Wetsuits-Matt Miller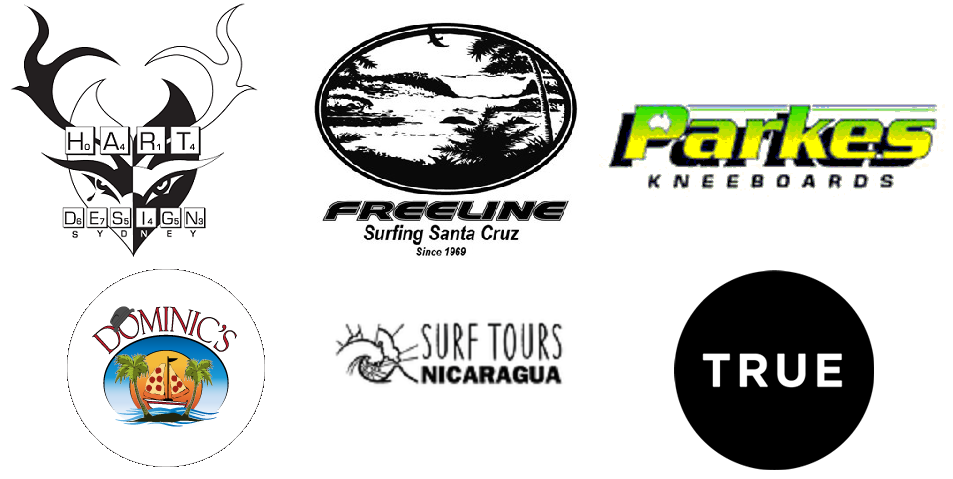 EVENT SPONSORS
Bird's Surf Shed, Bolsa Clothing-Mike Butler, Clairemont Surf Shop-Dan O'Connell, Cobian, Dangerclose GoPro Handles-Jeff Wallis, Goldenwest Goods, Grand Hyatt, Jeffrey Ommen Photography, Joel Mayer Pro Surf Photography, Kai Shots-Joe and Amanda Taylor, Kneelo Nation-Tom Fish, Kona Hut Coffee House-Tammy, Larry Block Enterprises, legless.tv-Steen Barnes, Robert Bradford, Sea Craft Supply Co/Yucca Fins-Sean Starky, Smith Optics-Danny Robertson, Stay Covered-Mark Cappa, Stonefish Skegs-Randy Stockstill, Surf Systems-Cove Pads-Casey Patelski, Tide Has Turned-Gavin Colman, Tidelines Tide Calenders, Trimco, Tropical Exotic Hardwoods, Victory Koredry-Marc Spitaleri, Viper Surfing Fins-Fred Simpson
Live Auction winning bid for the custom shaped boards were Tom Linn-Parkes; Roger Hughes-Flashpoint; Eric Klimczak-Freeline Design; Also, Surf Tours Nicaragua-Randy Morris.  Going home with some history were Joe and Amanda Taylor (Steen's image from the historic swell from June, 2016 in NSW) and my wife Sheryl and I (Amanda's afternoon image from Newport during Big Wednesday-Hurricane Marie in August, 2014).
To all of our generous sponsors, we hope you can partner with us again in 2018!
Finally, I want to mention that this was the 1st KSUSA Titles without Sprocky (Eric Osland).  Just about 2 years ago we met at Rincon for a paddle out to celebrate his wonderful life.  His contributions to kneeboard surfing were great and he was beloved by his KSUSA Family, and is sorely missed not just by us but by his friends and family who knew him best!
Final thanks to all who attended the KSUSA US Kneeboard Titles and Kneeboard Festival either as a competitor, family member, or friend.  The camaraderie and stoke are real, we have new Champion, and our sites are set on September-October for the Kneeboard Surfing World Titles in Spain!