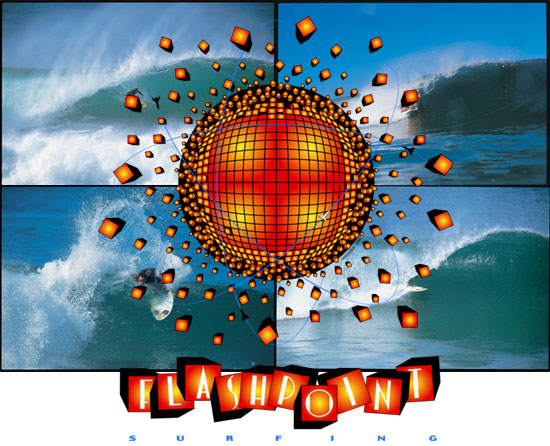 We are honored to have Hart Design/Flashpoint Surfing return as a premier sponsor for the KSUSA 2017 US Kneeboard Surfing Titles.
Bruce Hart – Hart Design/Flashpoint Surfing joined KSUSA as a premier sponsor beginning with the 2004 KSUSA US Titles.  Flashpoint has been one of our top sponsors for every US Titles and World Titles event that we have hosted since.  Bruce is a master craftsman who produces functional, high performance works of art.  He has a wealth of knowledge and an intense appreciation for the history and evolution of kneeboard surfing and kneeboard design.  The Flashpoint stable of team riders includes multiple World Titles Champions.
Bruce Hart is truly a pleasure to work with.  His stoke and enthusiasm for kneeboarding are contagious, and his customer service is outstanding.  Consider Hart Design/Flashpoint Surfing for your next shape. Contact Bruce at hartdesign@bigpond.com.
The following article from Bruce Hart was originally published on KSUSA in November 2003. Since then,  Bruce has continued to blend creativity and innovation into his shaping, thus facilitating the progression of kneeboard surfing.
---
Bruce Hart – Flashpoint Surfing – November 2003 …
Bruce Hart from Sydney Australia has provided us with his profile and a few pics of from his personal gallery!
The Beginning:  Our Kneeboarding career can be traced to early 1972, when I noticed surfers like Peter Crawford (vale PC) and Boyd Kelnar begin doing things on Kneeboards that Standup surfers could only try to emulate. The speed, the G-force generating cutbacks and the tube-riding that was happening around the Dee Why area was, to this teenage surfer, beyond equal. Peter was establishing himself as a pioneer, one that bordered on genius and from that time, my handed-down Gordon Woods was never surfed again. I have only ridden Kneeboards since.
Almost simultaneously, my surfing world was opened to another surfer who chose to ride Kneeboards, the Californian, George Greenough. Kneeboarding became something that I couldn't ignore, Greenough and Crawford had captured my imagination, with not only their surfing ability but with their minds. Some two years later I sat in awe at the World Premiere of 'Crystal Voyager', studying every second of footage. Kneeboarding to me had become State of the Art and took me on a journey from which there are no regrets.
The Mentor:  Surfing at Dee Why led me to the late, Chris Crozier. Chris produced the Slabs that were the Keystone of PC's mini revolution that was taking place on the Northern Beaches of Sydney and they were the only Kneeboards that I rode. I began working for Crozier Surfboards in 1978 and following Chris' return from a Northcoast sojourn, continued working with him through the early 80's up until, his untimely death in June, 1985. Chris had taught me to shape, to spray and to laminate. He was an absolute Master of his Craft. FLASHPOINT SURFING was established to continue the philosophy and the technique that Chris instilled within me. The influence of Chris and Peter in my work is as intentional, as it is obvious.
The Surfboards:  Contemporary Thruster Pintails (credit to Simon Anderson) that revolve around 1970 principles such as rail foil and deck line, yet shapes that possess 21st Century elements like 2-stage bottoms and shoulderless rails. All my work carries the one common thread, only the outlines and volume change in response to the Individual and their specific requirements.
Experience:  Total years as Professional Shaper, 22. Total Kneeboards shaped approximately 3,800 and counting! World title results: 5 No 1st place. Aussie Titles 7 No 1st place. Japan National Titles 2 No 1st place. World title finalists: 9 total ( 5 No Open division)
The Surfers:  FLASHPOINT SURFING would like to thank the following people for surfing and working with us, whether they do so now,or have done in the past – Peter Crawford, Simon Farrer, Kyle Bryant, Michael Novakov, Gavin Colman, Matt Gallagher, Trudy Barnes, Damien Gaynon, Mark Slater, Tim Gordon, Steen Barnes, Jamie McHugh, Gavin McManus, Roy Lentz, Red, Gary Clark, Neil Owen, Anthony Cridland, Craig Smiles, George Blair (San Diego) … and a cast of thousands!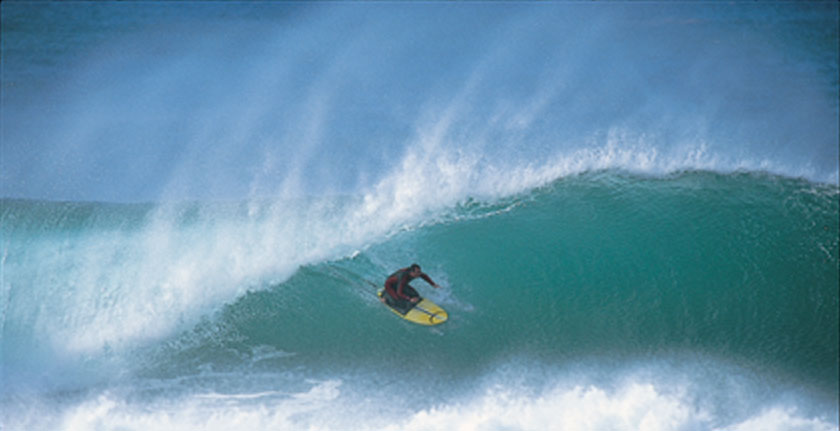 The Influences:  FLASHPOINT SURFING would not exist without the following people, whether their influence was indirect or otherwise. Peter Crawford, Chris Crozier, George Greenough, Terry Fitzgerald, Simon Anderson, Ian Goodacre, Barry Bennett, John Fleck, Greg Clough, Sam Egan and the cast and crew of Warner Surfboards in Brookvale.
---
Taken from the 2000 Australian Kneeboard Journal: FOILS AND RAILS…
Sometimes rails are understated by surfers when thinking new boards – so much energy surrounds plan shape, bottom curve and artwork. Rails are arguably the most individual characteristic a shaper gives a new board. Despite similarities between shapers of length, width and outline, rail shape most reflects what the shaper is trying to achieve, particularly in terms of feel. Feel to the touch, and in the water.
To provide a board that will surf flatter for, say, a surfer with an upright style a shaper would keep rails full allowing the thickness of the deck to come to the rail. This sort of board will want to stay flat in the water. If a surfer on the other hand has a lower, more drivey style, one where they want to put the board on a rail, then a shaper must reduce volume to allow the board easier entry into the turn.
Rails with lower volume will generally enter easier and maintain a longer turn than rails with fuller volume which release quicker and more readily. A low rail, however, may come at a price. Easy water entry may prove negative (particularly in choppy, bumpy conditions) where rails can catch and sometimes track.
Consideration, therefore, must be given to the element of release. To create release to an otherwise low rail, a couple of important design elements must be considered. The rail itself must be soft, with no edges occurring until way behind the halfway point. Ideally, the rail should lift from the bottom by way of a vee panel, running again to just behind the halfway point. This keeps the underside of the rail high in relation to the overall bottom curve, and in critical situations will allow the rail to release. The relationship of the deck line, however, is also important. We focus on a flatter line between deck and rail, reducing deck roll and eliminating the shoulder of the rail all together. The rail now becomes more integral with the shape itself – the deck, rail an bottom becoming one component. The board itself not only looks and feels, but surfs more three-dimensionally. This third dimension that is created by the culmination of bottom curve, deck-line and rail is what can be the best described as foil.
By introducing foil a shaper will create lift and drive (similar to wing shape in aerodynamics), irrespective of curve or outline.
But while so much energy is spent allowing the rail to enter and ultimately releases the rail shape itself develops its own personality.
While our rails are low aspect in principal, at their widest point we are introducing a boxy , slightly squarer shape providing response and looseness, even when the rail is fully on edge. But as every shaper knows, it's not the individual elements that are the important issue here. Rather it is the way these elements are combined, the way the shaper brings them together that is the key.
And next time you order a new board, remember to ask yourself just how low do you want to go?
Bruce Hart – Flashpoint Surfing