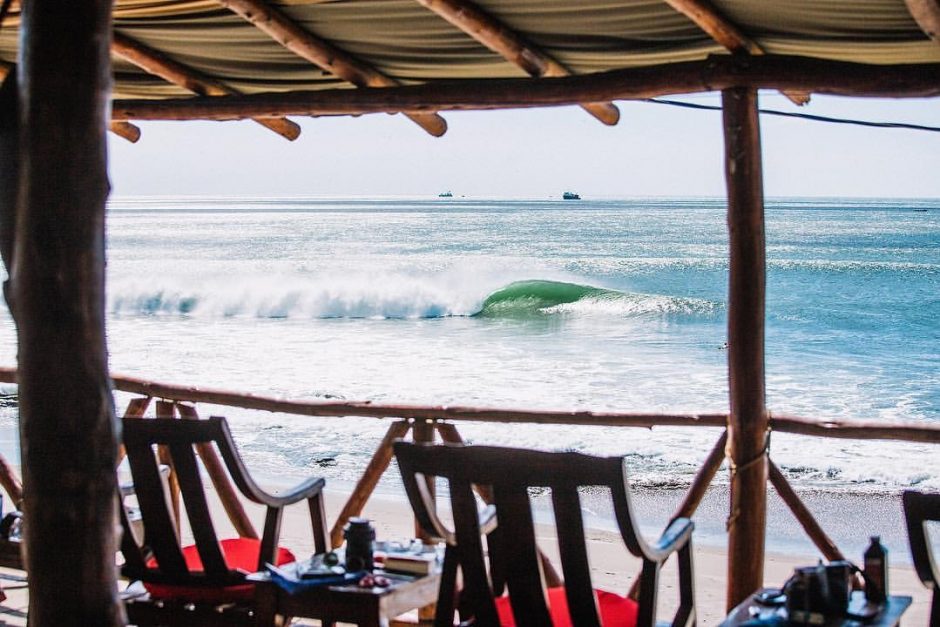 Surf Tours Nicaragua RanchoRelaxo – photo: Maya Sacks
Surf Tours Nicaragua Returns as Premier Sponsor
KSUSA is stoked to have Surf Tours Nicaragua again serve as a Premier Sponsor of the KSUSA 2017 US Kneeboard Titles and Festival.  Thank you, Alex Hazell, for your generosity and ongoing support for kneeboard surfing!
For years, kneeriders have been traveling to Nicaragua for the pumping barrels, warm water, and prevailing offshore winds.  One such surfer is Mike Sears from NorCal.  Over the years, Mike had made several great trips to the southern part of Nicaragua, always returning to his favorite camp.  Eventually, a few years ago, Mike was invited by his surf friends to try a different camp up north.  The camp was with Surf Tours Nicaragua (STN), which has a beautiful location perched on top of Punta Miramar in the wave-rich Puerto Sandino area.  After Mike's first trip with STN he said that he'd never go anywhere else.  STN has a large two-story, beachfront house with 5 private rooms, all with separate bathrooms, A/C, swimming pool, and an expansive rancho/yoga platform overlooking Punta Miramar, a meaty left-handed reef/point break.  There are 3 other breaks within a 5-minute walk, and the premier wave Puerto Sandino, a 300 – 400 yard reeling left, is only a 5-minute boat ride away.  Beyond the long lefts at Puerto Sandino are eleven miles of beach break peaks and river mouths of Salinas Grande.  There are also many other breaks that can be driven to as needed.
Before Mike's first trip to Punta Miramar, a small group of kneeriders, including Joe Taylor, stayed with STN and scored massive surf at Puerto Sandino.  Just ask Joe to tell you the story!  In recent years, many other kneeriders have chosen to stay with Surf Tours Nicaragua for their trips to Nicaragua, and 2017 will be no different.
Are you ready for a surf trip.  Contact Surf Tours Nicaragua and tell them KSUSA sent you.