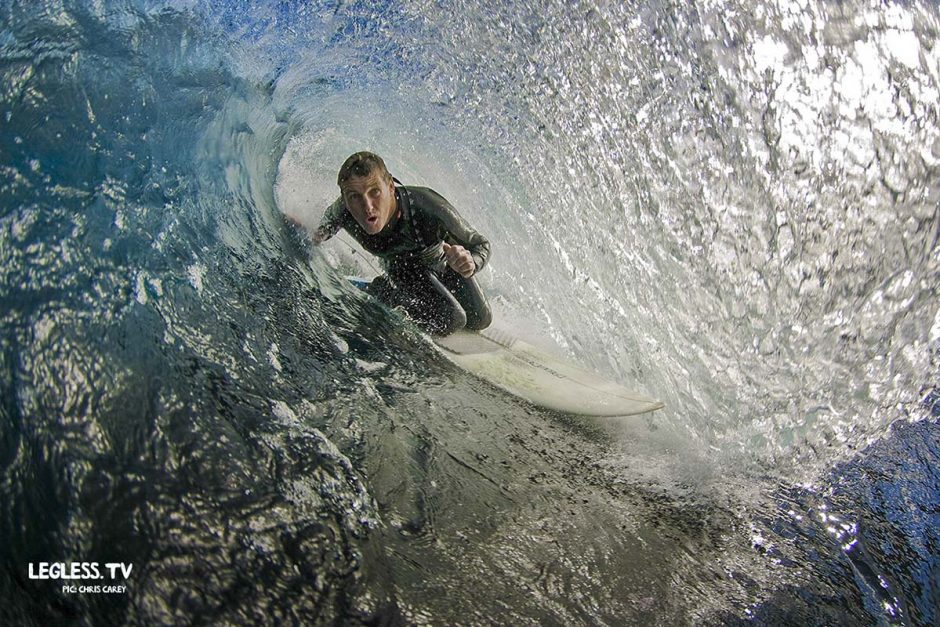 Parkes Kneeboards Premier Sponsor
An Interview with David Parkes
Parkes Kneeboards has been a premier sponsor of every KSUSA event since the first one in 2003. For this year's Auction, David continues his generous support providing a Parkes custom shaped board to the highest bidder. He's been winning Australian and World Titles and advancing kneeboard design since the 70's, and recently took time from his busy schedule for a Q&A with Ed Dimick.
Ed Dimick: Every kneeboarder has their story of how they got started. What's yours?
David Parkes: As a kid hanging and learning to surf at Maroubra Beach in Sydney we started off body surfing and riding "coolites" – slabs of polystyrene which meant we could surf in the flagged areas (like your blackball areas). We rode these prone, kneeling, and standing. My group of mates gravitated to kneeboards probably because of the Greenough and US media influence – pics of Lis fish being ridden etc. One that sticks in my head was captioned "Big Rock Bob in the bowl by Bolster". Some of the older guys who had cars and rode kneeboards would take us up and down the coast and surf slab type waves that were uncrowded. And that's where it started for me.
Ed: A few years ago I saw a photo of you on a pretty heavy wave I think it was in Indo. The photo caption described you as one of the best surfers in the world over age 50. Who do you think is north of 50 and surfing really well?
DP: It seems that a lot of my mates who I started kneeboarding with and have kept it up are still charging in the solid stuff. You all would have seen that picture and video of Pete Maclure in the Mentawais. That wave was no fluke. He goes harder than most anyone in the big stuff and he is not far from 60 either!  There are plenty of guys still doing it.
Ed: Are there any new design concepts that you're working on with your Parkes Team Riders that you can share?
DP: Design wise I like to think my shapes and designs are constantly improving and making it easier to surf. Nothing radical. I've never re-invented the wheel, but have worked on ironing out the bugs in current designs and adding design concepts where I feel they improve the performance of the board-not as a sales tool.
Ed: What's the go-to board in your quiver?
DP: My go-to board is approximately 6′ x 22 1/2″x 2 5/8″, a 4 fin set up with fins placed further back than my all round beach break board. The outline is uninterrupted with a very slight hip towards the tail and a swallow/fish tail.
Ed: You've had a lot of contest success. Any words of wisdom you can share with this year's KSUSA entries on your contest strategy?
DP: I reckon a contest scenario means everything is condensed into that heat period – 20 minutes or whatever. You need to be aware of what the surf is doing. Study the set frequency and know what the tide and swell is doing. And never give up. Contests are a fantastic social medium as well. Great way to make friends from around the world. Have a successful event!
Ed: Thanks David!
Ed: I've been riding Parkes Kneeboards since 2002. Every new board has been great including the magic board I'm currently riding (won the auction at the last KSUSA event!). David makes the order of your next board hassle-free. Thinking about a new board? Go to www.parkesaustralia.com
All photos courtesy of legless.tv
---
Through his surfing and shaping David has significantly influenced our sport in ways that are hard to quantify or adequately describe and, any attempts to do so from this side of the Pacific would fall very short. Therefore, in addition to David's own words above we thought we would ask a few of those who know David best to offer a few thoughts on David's surfing and shaping realizing that so much more could be said.
Steen Barnes:  My respect for the Surfer/Shaper in David is second to none. David is the most committed, long term, dedicated person to kneeboarding that we have. This man truly loves kneeboarding and his unmatched generosity and commitment towards the sport of kneeboarding is amazing. His skill at riding the best waves in the world at any size with ease is mind boggling and totally inspirational, Dave holds his own anywhere. David's state of the art kneeboards are finely tuned with 40 years of surfer/shaper passion, and its these skills that are applied back to his, yours and my board designs, this is where it's at. World Open Champion at 55 years of age. Gland at 10 feet plus at 55 years of age. Multiple World Champions over and over ride Parkes Kneeboards. Hands down there is not a bigger influencer, mentor, legend in kneeboarding.
Albert Munoz:  David's surfing is about as well-rounded as you can get, the man charges and has been incredibly successful in his competitive career. The funny thing about his surfing is, he has kept this incredibly high standard of performance for decades, never slowing down, always attacking sections and charging whatever heaving mountains of water he can get his hands on. His competitive side also reflects this tenure at the top ranks for decades, all the way from winning Australian national titles decades ago (which were far more competitive than world titles back then), to recent world title wins. All of these accolades are sometimes hard to see, under the veil of a sly smile and tons of humility.
David's shaping has been strongly influenced by his surfing, what works for him, in many of his models. Some others he has been open enough to take on feedback and criticism from those that ride his boards. The amount of boards he has made, the waves they have ridden and the smiles on the riders faces are probably where his contributions are seen the most. Not sure how anyone could quantify that, but I am sure he knows, again veiled under a sly smile and tons of humility.
Don Harris:  I first met David in '84 on my first trip to Australia. He's been a great friend and has been instrumental in advancing kneeboarding world-wide to what it is today As a generous sponsor to our events from the start back in 2003, his donations have helped KSUSA stay strong. Besides being one of the top talents in the water for decades, he's got an extremely loyal following for all the right reasons. I'm lucky our paths crossed 32 years ago and look forward to catching up with him soon.